MOOSEVISION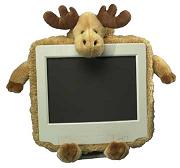 Moose on the box!
British & American television programs with references to moose. I have included the TV channel I saw them on in brackets, if remembered.
---
A-D
A Song For Europe (BBC 1) - A moose (European elk) is seen walking in a forest during a clip about Estonia, the 2002 Eurovision host

Ali G In Da USAiii (CH 4) - When interviewing someone from the Defense department, Ali asks about nuking Canada. He suggests using the element of surprise to "take all their mooses", which he describes as "cow things with horns"

Before They Were Famous (BBC 1) - Angus describes a celebrity's early attempt at singing like "someone in the other room was sawing a dying moose in half"

Blind Date (ITV) :-

- A couple spending their date in Stockholm find a moose and the woman asks "which is more attractive, me or the moose?"

- A couple spending their date in Toronto have their photo taken with a statue of moose dressed as a Mounty

Cutting It (BBC 1) - Allie is asked if she needs help "getting rid of the F.O.M. (Fat Old Moose)". Unfortunately it's her mother

Dad's Army (BBC 1) - Fraser hides a "wee moose" in his pocket

Dawson's Creek (CH 4) - Joey has a moose silhouette pattern on her bedside lamps during their ski trip

Desperate Housewives (CH 4) - "Brother Bear" moose toy on Lynette's sofa

Desperately Seeking Stardom (ITV) - The group of wannabe stars take on a Rottweiler puppy nicknamed "Moose"

Dick And Dom In Da Bungalow (BBC 1) - Furry moose head on the back wall of the studio house

E-M
Euroballs 98 (CH 4) - Lolo Ferrari describes Scandinavia and the moose. She says there are "10 million mooses, meese, moose, mice ..."

Eurotrash (CH 4) - Describes a recent strange event happening in Finland that this time "didn't involve a moose". It turned out to be a story on the annual wife carrying championships.

Fawlty Towers (BBC 1) - In the episode called "The Germans", Fawlty has to put up a moose's head in the hotel lobby. Basil, in his impatience, does a bad job of it and the moose head falls on his head, knocking him out cold

Frasier (CH 4) - Eddie (below), the family's Jack Russell Terrier, is played by a dog called "Moose", who died in 2006

Friends (CH 4) :-

- Joey was wearing an antlered moose-hat. Chandler asked "When did you start wearing mousse in your hair?"

- On another episode Phoebe was wearing a sweater with a moose embroided on it as she sang for a group of young children

- A further episode shows Chandler receiving some Rocky and Bullwinkle socks and so is able to "Mix and match - moose and squirrel"

Green Wing (CH 4) - Caroline says of one of her photos taken when she arrived for her new job, "I look like a moose in that one"

Hollyoaks (CH 4) :-

- Max is set up on a double date with Chloe "The Moose" Bruce

- Later in the series, when Jamie suggested standing for the student president, Chloe commented "that the last time he mounted a campaign it was her head on a moose's body"

- In another episode Gill remarks at her birthday party "There's life in the old dog yet", Darren asks "What about the old moose?"

- There's a surprise for Becca when Jamie (below) serenades her, whilst naked, on a giant stuffed moose


Invader ZIM - Episode in the first season called "A Room with a Moose". There is a moose in it but I have absolutely no idea what is going on! There was also a little purple moose called "Minimoose" (below right) who apparantly just floats around and squeaks pointlessly and is in fact a weapon!?

Jerry Springer (ITV) - A guest describes a bar where their friend visits that has a "huge moose" with a sign saying "the moose wants your bra"
N-S
Northern Exposure (CH 4) - The regular opening sequence of a moose walking through the streets of Cicely along with a few cameo shots. The moose's name was "Morty" and he sadly died in January 1994 aged about 5 or 6. He was part of the captive moose herd maintained at a Washington State University research station. (See Moose For Sale for related gift ideas)

Red Dwarf (BBC 2) - Lister's ideal partner is described as someone who laughs like a "freshly wounded moose attached to a cement mixer"

Romuald The Reindeer (BBC 1) - The theme tune includes the line "I'm bigger than an elk and smaller than a moose"

So Graham Norton (CH 4) - At Christmas the audience were given presents, one of which was an x-rated moose

Sometime, Never (ITV) - When Max has a chance to move to Canada, the leaving party is full of moose jokes and guests wearing antlers

Star Trek : TNG (BBC 2) - The fat Ferengi compares Worf's singing to a "Bardakian pronghorn moose"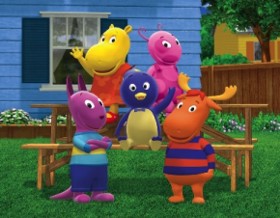 T
Taking The Flak - A new reporter in Karbiu pronounces the place like "caribou". David protests "its a country, not a fucking moose"

The Adam And Joe Show (CH 4) - A toy moose represents Miles in a take off of "This Life"

The Backyardigans - An animated musical adventure series about five high-spirited preschool friends, one of which is a laid-back moose named Tyrone. He is apparantly the "the nicest little moose you ever met" and certainly the most orange!

The Catherine Tate Show (BBC 2) - Lauren sings at her wedding but when her friend says that Lauren thought she was Celine Dion, she responds "Are you calling me a moose?"..."But I ain't even a moose though!"

The Muppet Show (ITV) - From episode 44 (Season 2) comes one of the most famous moments of this classic TV series. It's the scene where the Swedish Chef prepared "chocolate moose" though perhaps lacking the full cooperation of the ingredients. This scene follows a series of appearances by the amusingly named "Mickey Moose" who seems to have a John Wayne accent and the abiliy to cause a great deal of stress for Kermit. (A sample of the audio is included on my Moose Sounds page)

The Simpsons (BBC 2) - Mr.Burns makes a model plane and calls it the "Spruce Moose"

The Travel Show (BBC 2) - Simon Calder visits Canada and ends up swimming with a moose in Lake Ontario

The Weakest Link (BBC 2) :-

- In the celebrity Christmas special Nicholas Parsons is asked "what 'C' is a large North American reindeer?". He answers, incorrectly, with "moose". He was the weakest link!!

- In nature, what is the largest member of the deer family? (Correct answer - 'moose or elk')

- What is the largest mammal in North America? (Wrong answer - "the caribou or moose").
(Correct answer - 'buffalo')

- Found in North America, the moose is known in Europe by which 3 letters? (Wrong answer - 'doe').
(Correct answer - 'elk')

The Weakest Link USA (BBC 2) :-

- According to legend what was the name of Paul Bunyan's blue ox? (Wrong answer - "Moose").
(Correct answer - 'Babe')

The Wuzzles - Cartoon series following the adventure of a group of playful creatures that were part one animal and part another. One of these was called "Moosel" who was part moose and part seal.

The X-Files (BBC 1) - Mulder accuses Scully of rejecting an assignment based on grounds of "the adventures of moose and squirrel"

Tomorrow's World Megalab (BBC 1) - One experiment about sexual attraction features a moose and describes some animals which choose their mates by "the size of their antlers"

U-Z, 0-9
Veronica's Closet (ITV) - The newly decorated office has a moose head on the wall. It is pointed out that "the eyes follow you wherever you go"

Who Wants To Be A Millionaire (ITV) :-

- In 1912, former US president Theodore Roosevelt was a candidate for which political party? (Correct answer - Bull Moose). The contestant decided not to risk the £1,000,000 question despite saying "there are moose in Canada...or meese...or whatever you call them"

- A contestant from a later show had his daughter's "lucky moose", Minnie, in his pocket which proved quite successful as he went on to win £500,000

Wild New World (BBC 2) - In the episode "Mammoths To Manhattan", the narrator explains how moose slowly moved across America whereas the larger stag-moose became extinct. (More info can be found on my Moose Evolution page)

You Askin'? I'm Dancin' (CH 4) - One participant of this disco documentary changed the lyrics of the 'Footloose' classic to "Go kiss a moose"

You've Been Framed! (ITV) :-

- Clip of a female moose in a section about animals

- Another clip shows a man filming a bull moose being charged and running away

100% (CH 5) :-

- What is the name of Canada's National anthem? (Wrong answer - 'Let Moose and Mountie unite').
(Correct answer - 'O Canada')

- Which Disney character made his first appearance in "Moose Hunt"? (Correct answer - 'Pluto')

8 Out Of 10 Cats (CH 4) - The panel move on to the discussion of "crap" animal names with the result that they suggest that 'satellite donkey' would be a better name for the moose
---
For moose references from the movies, see Moose on Film ...

... or return Home.
---