MOOSE AND SPORT

Forget horses and greyhounds.
Moose are not particularly renowned for their speed and agility so it is not surprising that in the sporting world the moose is adopted as a mascot for the more physcial sports.
---
Soccer
From right here in England from the football (soccer) league comes "Marvin the Moose", the mascot of Cambridge United.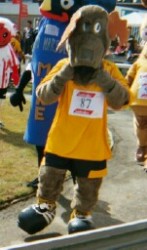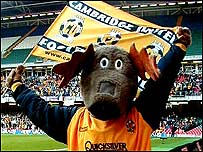 ---
Ice Hockey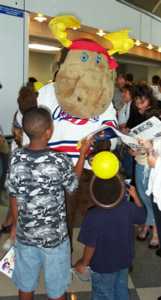 So far a total of 3 hockey teams have been discovered. The first to mention is the Rochester Americans and their mascot simply known as "The Moose" (right).

The second is Canadian hockey team, the "Halifax Mooseheads" (left).
Finally, another Canadian hockey team, the "Manitoba Moose" whose famous mascot is called "Mick E. Moose" (below). In 1999, I was pleased to add a puck and several badges bearing their logo to my collection of unusual moose items.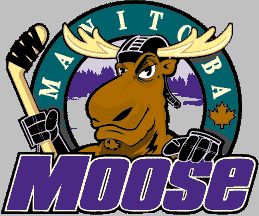 ---
Rugby
Moose have also found there way into the world of Rugby in the guise of the French player Jean-Gabriel Petit and veteran team "les Gros Élans" (see below) which to the French ear sounds like "fat and slow". A little harsh perhaps!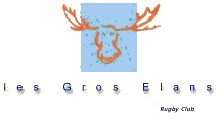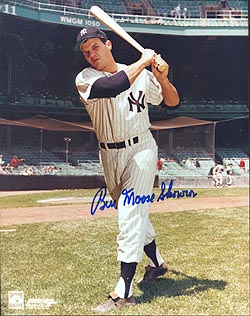 ---
Baseball
It's not just teams that get the nickname "Moose" but players too, for example, New York Yankees' First Base, Bill Skowron (see right) and Bryan Haas from the Milwaukee Brewers.
I don't have much information about them at this time so contributions would be appreciated no matter how small.
Also from the world of baseball, from the state of Washington (USA), is the mascot of the Seattle Mariners, the famous "Mariner Moose". In fact, he is so cool, that I have decided to dedicate a page just to him.


<== Click the team's logo for the photo gallery so far.
---
---